Summary:
Caught two tornadoes, the second one being an incredible 90 minute EF-4.
Stats:
Tornadoes: 2
Hail: 2.50″ (Tennis ball)
Wind: Est 80-90mph RFD/inflow

The Forecast:
Trough in place, but large scale surface features lacking. Outflow boundary draped across north central Kansas from previous day's storms. Weak shortwave moving through the mid level flow serving as a potential factor for storm initiation, but cap also a concern. Diffuse dryline also present near I-35 but not forecast to sharpen. Outflow boundary seemed the best bet to get a storm, and given the large amounts of CAPE present with at least SOME shear, the potential was certainly there for an isolated monster. Initiation would be the biggest question. Due to low confidence in storm formation, and more so coverage, SPC went with very low probabilities.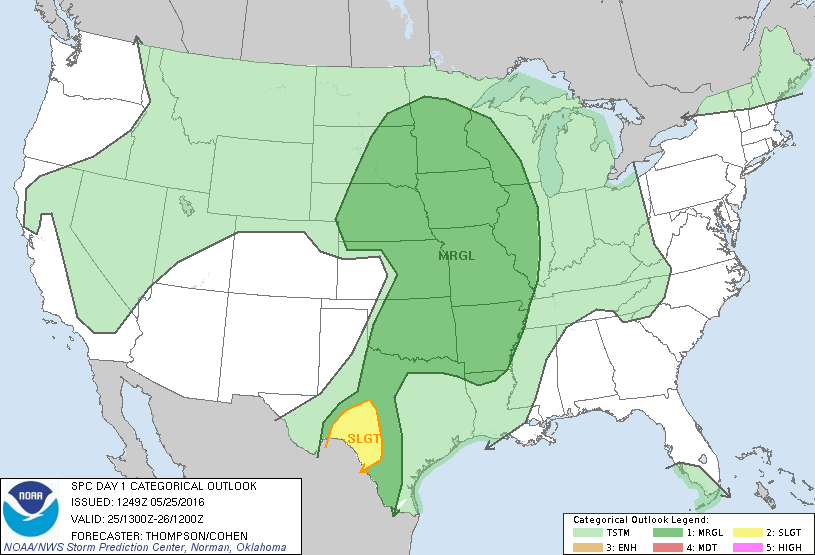 Detailed Account:
Riding the extreme high from yesterday's chase, today was clearly boom or bust. Before I even ventured out for this week of chasing I was telling people "Just follow the outflow boundaries south, and wait for Benningtons." For those who don't know, the Bennington Tornado is one of the most impressive tornadoes I have ever seen, on a very similar low probability day. The target area to me seemed obvious, almost in the same exact area around I-70, somewhere near Salina Kansas. We left our hotel, eager to begin the drive.
On the way I was to meet up with Chelsea Stewart in Wichita. My new favorite co-pilot, she had been unable to make it out for the previous days, but was finally ready to jump on board. We met up at the Motel 6 in Wichita I frequently stay at, and we were now a crew of 3. There was a bad accident on US-400 though, and we got gridlocked in awful traffic, moving only about a mile in an agonizing 30 minutes. I was beginning to get nervous, as a cu field started going up near my target and we still had at least an hours drive. We finally got out of traffic and were on the move, stopping for a Braums amazing sherbert shake thingy along the way.
One storm began exploding to life and quickly became the storm of interest. I've seen this look before and began to wonder if history would repeat itself.

The storm was forming right near the outflow boundary, and chasers underneath it were already reported scud rising rapidly into the base with rotation beginning. I picked up the pace to make sure we got there. We got off at the Bennington exit, the same exit I filmed the 45 minute stationary EF-4 tornado 3 years ago, and moved west to get into position on the organizing base. Rotation was increasing as we approached, and it didn't take long before a long slender funnel emerged. Was it actually going to happen on such a low probability day? I pulled us over to watch the funnel, and about 30 seconds later dust whirled up from the ground. Tornado.

The tornado itself was short lived, as it appeared to be in an occluding mesocylone, but it was still able to stretch and reach the ground. At this point I was happy. Chelsea got to at least see a tornado this week, and that was my main goal. We jumped back in to keep pace with the storm, which became more elevated at this point, with a less organization in the base.

It appeared to be just on the wrong side of the boundary, but was spinning like a top. I ran into a bunch of other chasers at this point including Alec, Aaron Rigsby, Dillon and several others. They had seen the tornado too from the other side, giving it a white appearance from their perspective. Pulled over alongside the road watching our elevated storm, we noted a nice mid level shear funnel.

This can be a really good sign, as it shows our storm is spinning hard. If only the base could lower. The reflectivity core was weakening on radar and it appeared the storm was done, but we kept with it since it was the only game in town, and still rotating afterall. I got stuck behind some annoying chasers doing about 15-20mph on a 1 lane 55mph road. Ill never understand that…its just rude, but we broke away from them and were able to get going back at our own pace. Driving THROUGH Benington and continuing east, the storm still appeared to be struggling. About 20 minutes of cat-n-mousing went by, when suddenly large hail started falling. Nickels, half dollars, golf balls, tennis balls. This was a nice treat, but it also meant the updraft was strengthening and the storm found new life.
We moved once again to get out of the falling hail so we could jump out for pictures, looking south, a beautifully striated mesocylone developed. One of the best I have ever seen.

At this point I was more than happy with the day. Suddenly I noticed a little point underneath the meso. "ITS ABOUT TO PRODUCE" I shouted as I made everyone get back in the truck. I floored it down the road to get underneath it, just as a new tornado touched down, only yards away outside the window. With a loud wooshing sound the tornado fully condensed and moved into a grove of trees, hurling large branches into the air.

We sat watching it for a couple minutes, until it made a brief jog west towards us, prompting me to drive a little more south, just in case. At this point the intensity really ramped up, and a large inflow jet was feeding into the obviously strong tornado in the field next to us. Being positioned to the west gave the tornado its white, ghostly appearance.



While watching the tornado, a large hailstone crashed into the ground, sending up huge chunks of dirt as if someone lit off a stick of dynamite. That was my cue to move, as I have never seen hailstones impact the ground with such force before. I wish I knew just how big the stone was. Unfortunately it occurred just off my camera frame, but Mike managed to capture it on his (a piece of video I still need to snag from him.)
The tornado began to pull away from us and it was time to figure out how to pursue it, the road network was a broken grid offering some slow moving options. Thankfully it was a fairly slow moving tornado. We got onto one really slippery road and I briefly went into the ditch to get around a stopped vehicle blocking the intersection. I hit the breaks and the truck did a 180 spin on its own. Thinking back to yesterday I did not want a repeat, especially with such a large tornado on the ground. I gave up our position to get back west and north to the main highway. Losing visibility on the tornado for about 10 minutes. We hook sliced from the west, and finally regained a view of the tornado, now to our south. It was now skinny in appearance, appearing like it was getting ready to rope out. Credit for these images goes to Chelsea, as I handed off my camera to her so I could figure out the difficult navigating/positioning aspects of the chase, which can be quite stressful at times.

The road took a dip south, but the tornado began to widen and strengthen again. It was now to our southwest, with contrast increasing.

It was time to go for it, I floored it once again to get the up close, crossing the road shot. This would be perfect for the project Mike and I are working on. Surprisingly there were no chasers, cops, or other vehicles on this road. I was able to drive right for a front row seat of this beast as it crossed the road, feet infront of us.

After it crossed the road, it began to widen and strengthen further. The RFD/inflow winds picking up dramatically, rocking the vehicle back and forth.

You could really feel the POWER of the storm here, and its one of my favorite moments in any chase. Tree branches began whirling around us as were on the outer fringes of the debris field. I moved slowly south, to east the stress of the glass on my back window. I was thinking back to my incident near Wayne, Nebraska in 2013 where a similar close encounter shattered the back window. Our close position apparently raised some concern on facebook, where a couple chasers saved radar grabs for me, this one showing my SN icon inside whats called a CC drop. The blue colors indicative of a tornado's debris field.

Suddenly we saw powerflashes as the tornado continued to widen, structures were now being impacted and the tornado was doing more serious damage. It didn't take us long to come upon the damage path.

EMS was quick to arrive on scene though, as we encountered several houses that were destroyed. We continued to pursue the tornado, from the west, which offers a lower contrast view. Probably an hour has gone by now, and the tornado was still very large.

The road network got slightly less favorable here, and I opted to take a long jog south to get to I-70 in attempts to gain some ground, perhaps go for a more high contrast position to the north or east. Once on I-70 we regained visual. The tornado was extremely large, obtaining wedge status as it neared the interstate.

Creeping down slowly, debris began raining down on us as the tornado got ready to cross. I deemed it to risky to attempt to beat it, and we held our ground as it crossed, the outer inflow winds at our back, howling into this massive beast. At this point it no longer looked like a tornado, just a giant black mass of rotating rain. I-70 was now cutoff, and I reversed it to median where I was able to do a U-turn and head the other way. The tornado was nearing the town of Champan, and my heart sank when the velocity showed the couplet right over the town, along with a purple ball, potentially another debris signature.

I thought for sure the worst was unfolding. Attempting to re-position on the tornado proved to be unsuccessful due to downed powerlines, and a string of EMS vehicles heading for Chapman. Reports were coming in the tornado had FINALLY began dissipating. We decided to head into Chapman to see what may have occurred. Luckily for the town, the tornado only clipped the southern end of it, averting what surely would have been a major disaster.
Darkness was beginning to set in and I called the chase. The sky was filled with lightning streaking all around, so Mike and Chelsea jumped out to take some shots while I worked on uploading some video. Once we were done, we decided to head back to Wichita for some dinner plus drinks, and a well deserved night of sleep. Tomorrow could be ANOTHER big day.
Conclusion:
The Chapman tornado ended up being on the ground for 90 minutes. It was so strong it bent railroad tracks on the south side of Chapman. This may very well be the single most impressive tornado of my career. To be on the ground for that long is exceptional, and is a very rare breed of tornado. Being right next to it as it touched down was incredible, and perfect positioning. I also managed my best "crossing the road" shot with this tornado to date. Feeling the power that close is a sensation that is hard to describe. The encounter on I-70 was equally as intense, as the situation became more dire with towns, traffic and civilians in the path. This is another top chase in my career, even though we *only* saw two tornadoes, the Chapman tornado itself represents the top tier of tornadoes. Luckily the town itself was missed, or we may have witnessed the next Greensburg.
As far as history repeating itself? I made this to compare.

Videos:
Map.
Unfortunately the map is incomplete because I accidentally closed it without saving during the hectic pursuit, but a few key points can be noted.

SPC Reports:

Leave a Comment: