Blue Sky
Summary:
Chased very marginal setup hoping cap would break. Cap held until near dusk when struggling storms finally went up but quickly died so settled for shooting a sunset time lapse instead.
Stats:
Tornadoes: 0
Hail: .00″
Wind: N/A
Detailed Account:
This day was the first in a plains trip. I was not sold on the setup at all but had a quest with me that was eager to get out and chase. A man by the name of Phil Bates had contacted me asking if I could take him out to get certain shots of severe storms. I explained the setups ahead weren't all that great but he wanted to try and offered to cover costs so off we went. I recruited Matthew Cumberland and Jonathan Williamson to help me along with this mission which is slightly different than how I normally chase. Phil owns a stock footage company and needs well positioned, tripoded shots. That meant I needed to change my usual form of intercepting and take a more relaxed approach. I also needed someone to help Phil with his expensive camera equipment while I handled the radar and forecasting.
The setup had good dynamics but a very strong cap, if it could break we would be in business. We targeted around the Columbus, NE area where we met up with Ben Holcomb, Scott Bennett and many others for lunch and played the typical waiting game.
We moved north closer to SD along with the better parameters, eventually an MD came out, then a tornado watch but it was never meant to be. We spent the remainder of the day under blue skies, warm temps and struggling cumulus.
Matt and Phil getting their photo on.
Artsy view of the beast.
The Dominator and Discovery crew passing us as they try and keep up with the failing setup as well.
Towards dusk storms tried to get going.
The cap won though, eventually a lone storm went up well into South Dakota but it was out of range for us. Instead we chose to film and time lapse the sunset which is a shot I never got, and will make a nice addition for DVD credits or some other film project.
Shortly after this an officer pulled up. Apparently some locals got scared at seeing two black SUV's with out of state plates hanging around the fields and called us in as suspicious characters. Once the officer realized we were harmless he got out, lit up a cigarette and had a foul mouthed conversation with us for about 30 minutes. It was quite an amusing twist to the day but I am still puzzled how anyone saw us out there to begin with. There were no houses in sight and its creepy to think people were watching us with binoculars. Once we were done with that I decided Murdo would be a good place to stay the night for the next days setup. We had dinner near Valentine with the TIV crew and were on our way. I also just barely missed hitting a dear. We arrived at our hotel to find the Dominator crew roomed up the same hotel we booked on the way. We hung with them for a bit and I loaned Reed a can of bug spray as his hotel had a mosquito infestation.
Conclusion:
I wasn't upset over the day. I knew it had low potential and busting when storms don't form no longer gets me upset, especially on a day with low expectations to begin with. The day was spent with great company and lots of laughs were had. Overall a good time.
Map, todays chase is highlighted:
SPC Storm reports, the tornado in SD was reported as thin and very brief and near dark. No chasers got video or pics.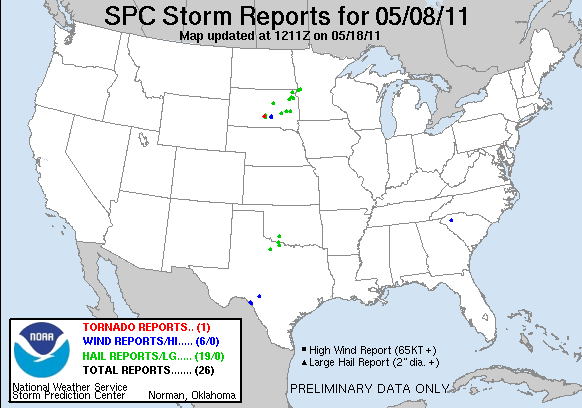 Leave a Comment: