Oh South Dakota…
Summary:
Another cap bust type day. Spent a large chunk of the day in a Murdo gas station parking lot chatting with nearly every chaser in the country. Eventually numerous storms went up at dark providing an intense nighttime core punch and maybe even a tornado.
Stats:
Tornadoes: 0 [maybe 1]
Hail: 1.00″ [quarter]
Wind: est 60mph thunderstorm gusts
Number of chasers in Murdo parking lot at any given time: >40
Detailed Account:
Awoke in the target area and had a nice leisurely morning. The TVN crew shared our motel and we watched them film their morning tidbits for the show which was pretty neat. I largely avoid them while on the road, but it was nice to be able to chat with them and actually see how things get done.
We decided to get breakfast, which turned out to be lunch at the same place, and it was fun to chat some more there. It was apparent the day would be similar to yesterday, barely a chance for a decent storm given the strong cap, but if it were to go we were sitting at ground zero. So we sat around and waited….and waited…and waited. We left to take a brief photo shoot just south of town on a hilly road from which you can actually see the entire town of Murdo from.
Matthew Cumberland took many shots, and they are much better than mine. Here is a picture of him in action and I urge everyone to check out his site for some great work!
Having a little fun I decided to have a Twister moment: "The days of sniffing the dirt are over!"
We returned back to Murdo to continue hanging with the chasers. I saw just about everyone I know and consider a friend in the chasing world and it was great. Fast forwarding to evening, storms finally went up in eastern Wyoming of all placed. Phil, still needing some stock shots wanted to at least get some lightning, and Ben was chasing with a guest who came all the way from Finland so we decided to go after them. This brought me almost to Wyoming, but a move south out of Rapid City kept us in South Dakota. Ben was driving a rental and did not want to core punch so we broke off and I continued on. We punched the core of a first storm that brought on some nickel sized hail. Finally some action.
We got into position to let the next storms core run us over, and what a core it was. A monsoon of quarter size hail driven by severe wind almost began making me nervous about loosing windows, but the hail never got much larger than quarter. We let the storm pass and Phil got some great lightning shots as we were in the hook, then we began to notice something. A very well defined lowering was showing up in between lightning flashes so we switched gears and began filming. Johns video shows the feature well.
It was pretty convincing in person, and even so in this contrast enhanced video still.
Needless to say my typical skepticism is the only thing keeping me from calling this a bonafide tornado. We were the only chasers on this storm, and we were in the right spot to view such a feature.
Despite how convincing it appears, there was a hill and trees obscuring the ground, and no damage reports were ever received, likely due to the remoteness of the area we were in. Still, that is about as convincing as it gets despite those factors.
Once the storm was passed we again met up with Ben and decided not to chase the next days setup in Minnesota. It would have been a real challenge to get down to Kansas or Oklahoma for what was supposed to be the main event on Wednesday, we drove down to North Platte for hotel and food and to share stories of the day, arriving in the early morning, roughly 2am. It was nice to find a Perkins restaurant still open, and the Hampton has the most comfortable beds ever.
Conclusion:
Despite marginal chances again this was a great day. Hanging out with everyone was awesome and then getting on the storms that did form and being in position for what probably was a night time tornado left us pretty satisfied with the day. A storm in South Dakota did drop an obvious rope tornado after dark but was no real prize. I wish I could say for certain what we caught is a tornado, many others are convinced, I should just count it, part of me knows it is, but there is always that nagging 1% of me that says no. That is the challenge of night time chasing though. Phil was happy and impressed with how we handled the setup, and thats all that mattered to me was making my guest happy.
Map, arrow shows location we filmed the possible tornado.
SPC Storm Reports: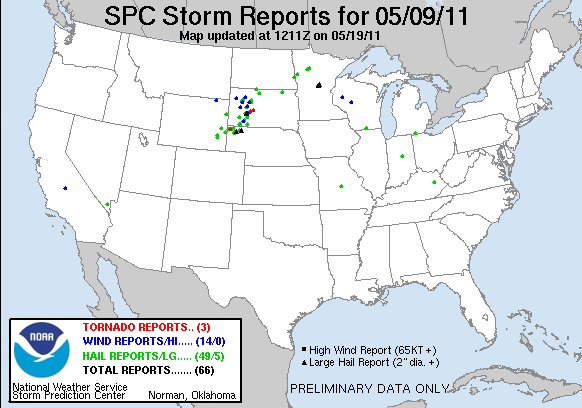 Leave a Comment: