Summary:
Arrived just in time to document 2 tornadoes and 4″ hail across TX/OK , the second which wound up impacting the town we were staying at overnight.
Stats:
Tornadoes: 2
Hail: 4.00″
Wind: N/A
The Forecast:
Deep, slow moving trough entering the plains combined with favorable directional shear, steep lapse rates and good thermodynamics. Discrete supercells seemed likely. SPC went with MDT risk tornado probabilities.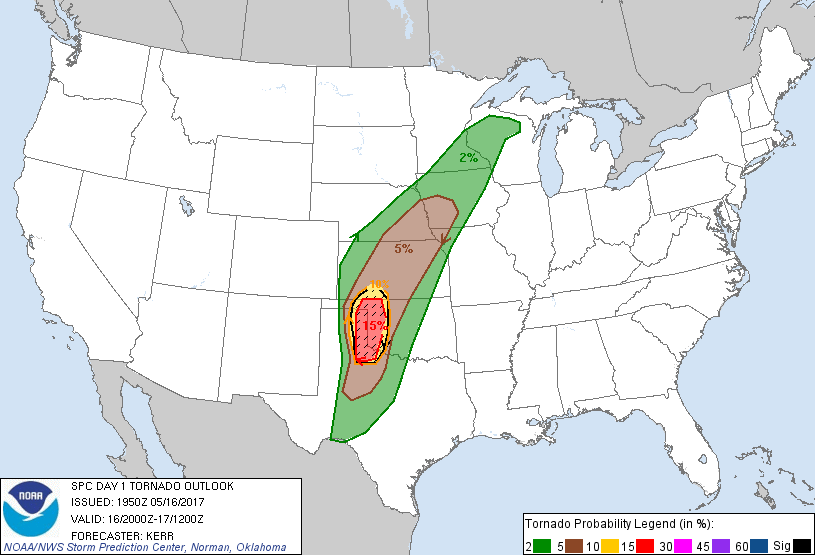 Detailed Account:
2017 has been a pretty challenging year up to this point. Setups have mostly under-performed. Finally a couple REAL decent chase days presented themselves and we were ready. I left Chicago around midnight ready to make the all night marathon drive, planning to (hopefully) arrive just as storms initiated in the TX panhandle. I made arrangements to stay in Elk City, OK as there is a good motel-6 near the highway and several options to eat. Chelsea was to meet me there, drop off her car and jump in. Fast forwarding about 14 hours I arrived in Elk City just as storms were about to initiated. We quickly checked into the room, dropped some gear off and were out.
Making our way into TX along I-40 there were multiple storms to choose from, all in a seemingly good environment. We were approaching a particularly good looking cell heading for the McLean area. There was a critical navigation call to make at this point as a river canyon bisects the area and the two main road options are a good 10+ miles apart. I first thought about going to the western option but decided we wouldn't beat the storm and made a quick U-turn for the eastern option which was CR-273. Visually the storm looked to be organizing, we would cut it close but could make it. Core punching from the north we emerged just as a funnel cloud began dangling over. We pulled over on a large grassy shoulder along with many other chasers just as the tornado touched down.
We FINALLY got a decent looking tornado in 2017. It fattened up to a nice elephant trunk and lasted about 6 minutes, before roping out.

Large hail began falling and we had to retreat into our vehicles. Road options were limited and we had to skirt the core to get east and stay ahead of it. The hail grew in size to about 4 inches in diameter, adding quite a few new dents and some large cracks on the windshield.

We decided to let this storm go and drop down to a new cell coming up from the southwest. We found a nice view and watched the storm approach, showing off some textbook supercell structure. The limited roads wouldn't allow us to get close but it was amazing to watch this beautifully sculpted beast approach our location. My only regret is not time lapsing it because it would have made excellent educational material to show the entire storm's rotation updraft (mesocyclone)

The rotation at the surface was absolutely cranking, and we thought for sure we were about to watch the birth of a very large tornado. It was not meant to be just yet though as a rain filled RFD swooped in and obscured the view. We decided to re-position. I took an aggressive approach skirting the core once again with hail approaching 3″ – adding even more windshield cracks. Fighting the core was tricky but we managed to pull ahead and drop south to get into position with a good view. Many other chasers opted for a different approach and we found ourselves now mostly alone. Approaching again from the east, dust whirled up under a rapidly rotating wall cloud, our second tornado was now underway.





I thought now, this time, for SURE we were about to get a nice high contrast view of a large tornado, but NOPE. The tornado ended up remaining a relatively weak multi vortex with several of these intermittent vortexes spinning up underneath a broader parent circulation. Roads were once again unfavorable to continue east. I was a little hesitant to attempt to beat it north as rain filled the RFD and obscured our view. Flashbacks to Wayne, NE in 2013 filled my head and I did not want to put my passengers through that. We opted to stay behind and let it go to our north while we dipped south and THEN east, to head it back off to the north.
The tornado wound up impacting Elk City as an EF-3. Our hotel and Chelsea's car were both located there and we were obviously concerned when the damage reports starting coming in. We got back ahead of the storm but it had become outflow dominant, cold air fish-slapping us across the face. Broad rotation was still evident but with the cold air I believed it to be gusting out and north worth pursuing anymore. We decided to head back into Elk City. Thankfully our hotel was not impacted, but the area was without power. Exhausted, smelly and hungry my disposition was beginning to rise. We tried to head east to Clinton for food but everything there was out of power as well. Fuel was also getting low. Our next option would put us another hour out of our way. Hotels were booked up and at this point we just wanted to rest.
We managed to find a small gas station running on generators which was of course mobbed by hungry, stranded locals unsure what to do. This is where the human impact of these storms sets in. The gas station was nearly picked clean of everything and we had to settle for dinner in the form of a Lunchables and a bag of potato chips. I think Chelsea found a container of fruit. Less than ideal for sure but at least it was food. We made our way back to the hotel, still without power. Thankfully the woman working (who was a fan of our storm chasing endeavors) gave us one of the only lanterns available to take to our room so we at least had some light. We did have to settle for a quick, cold shower. Sleep found us quickly though despite being put off like we were, only waking up around 5am when the power came back on.
Conclusion:
We made it in the nick of time! Literally leaving Chicago and driving straight up to a tornado! PHEW! A pretty wild and successful chase day. The McLean tornado was a nice, photogenic tornado, a good catch in any season. The very large hail, amazing supercell structure and second tornado were all icings on the cake. The disposition we were put in due to the Elk City tornado reminds us just how impactful storms can be, and that storm chasing isn't always for the faint of heart. Modern services can be cut off and if youre not able to rough it out sometimes, it is not the life for you!




Video:
Map. Arrows show locations tornadoes were documented.

SPC Storm Reports: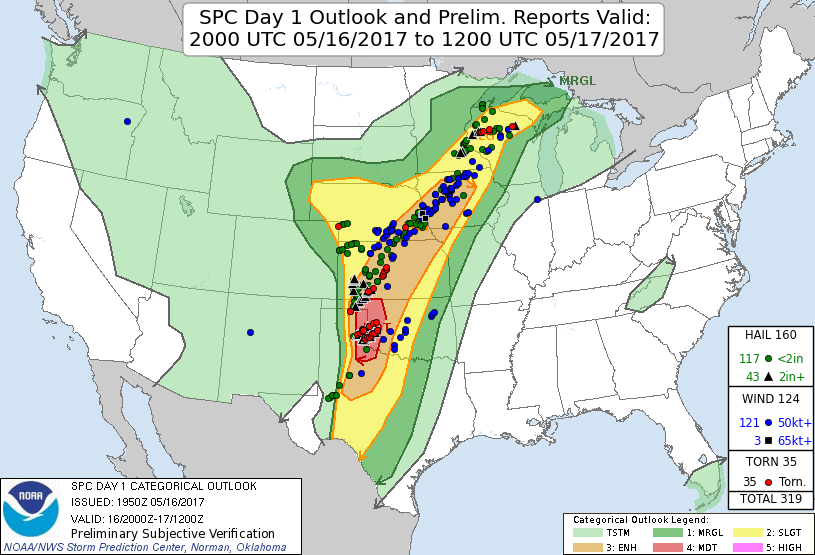 <—Previous Chase             Next Chase—>
Leave a Comment: