Summary:
Caught large, destructive EF-5 tornado that tore through Moore as it was west of town. Could not pursue tornado due to lack of river crossing so dropped south to other tornadic storms witnessing possible tornado before calling off chase and heading back to Shawnee for dinner/hotel.
Stats:
Tornadoes: 1
Hail: .00″
Wind: n/a
Streak of consecutive chases yielding tornadoes: 4
The Forecast:
Similar setup to previous days as slow moving trough made little progress. Extreme instability under breakable cap with favorable shear for tornadoes and supercells. A slightly veered profile once again made good tornado potential questionable, except for where a boundary sat near the OKC metro area. There was also a CF/TP intersection (cold front/triple point) as well as a mesolow that was forecast to develop in the area to enhance shear. Everything screamed bullseye on the the OKC metro, but I was not thrilled about chasing in the metro so I set my target area for just south of Norman and hoped storms would instead develop there and track through more open areas. SPC went MDT risk, but "only" 10 hatched for tornadoes.

Detailed Account:
Originally when formulating plans to chase this system, Monday May 20th had the potential to be a more local chase across the midwest, but in the back of my mind I kept it open in case the system slowed down and this is indeed what happened. The slow movement of the trough meant the days target area would shift further south which each progressive day, and so would our tactics. As mentioned above, everything on the models screamed the Oklahoma City Metro area as the target zone, but I did not want to believe it nor set my target area in the city. Everyone in the car agreed and we never even considered another target, so we set course for Ben Holcombs apartment in Norman, since that was at least on the southern end of the big city area. I wanted and hoped for storms to form further south…in hindsight I let this get in the way of a more successful chase as you will read about soon.
We arrived at Ben's where we were greeted by many other familiar faces. David Drummong, Bill Oosterban, Jari Ylioja and new chaser Jolayne Limoges. We weren't there long when the first storms began popping south of the near the town of Purcell. "Good" I thought to myself, this is what I wanted to happen, yet that boundary was still there across the metro. Everyone was antsy to get going after the storms going up by Purcell so we parted ways to get gas and began bolting south for the storms, which looked good on radar.
On our way down, it began happening. A tower exploded to life just west of the metro area, we knew what was going to happen, but for some reason I tried to block it out of my mind and we kept on course for our storm. The Moore storm going up.

We skirted the core of our storm briefly, while watching the Moore storm explode on radar. We knew it was time to turn around because unfortunately, that storm was going to drop a big tornado, and we set course for the metro just as the first tornado warning came out. Reports started pouring in soon after that. A fatal and un-intentional mistake made by us was we got west of the Canadian river, which has NO crossings other than I-44 or I-35. We chose to try going up 44 as reports of a large tornado were pouring in, but our attempt was thwarted by a police roadblock. I managed to get around the roadblock by doing what can best be described as some evasic driving and we found ourselves going east on 130, suddenly through the trees we spotted what appeared to be a very large tornado but I thought "no way its that big." Right after that Joe showed me a pic posted to facebook that in fact confirmed it was the tornado. I started filming, knowing we would get a view of it again. I turned north on Portland road knowing we only had so much room before it ended, but there was no other choice as going east and then north on I-35 seemed like just as bad an option as 44.
As we traveled north on Portland road, trees blocked our view initially but when they did clear there it was. A monster, 1.3 mile wide tornado about to bear down on the city of Moore.
Danny wanted to stop and get stills but me being the agressive chaser I am I wanted to get as close to it as we possibly could before our road ended, that took us about another mile up the road until the point where it curved back into the highway that was blocked off. I stopped where the last probable clearing of trees was and watched in awe/horror as the violent beast churned infront of us.
At this point it almost doesn't even look like a tornado. It just looks like a black mass extending from the cloud to the ground, however the visual rotation tells another story.  A storm so massive it looks like the entire sky infront of you is spinning, kind of like being being dizzy, only you're standing still. It was hard to be excited knowing where the storm was going, though.

Eventually the tornado was lost in the rain, a few powerflashes told us it was still there. It was now entering Moore and was about to unleash total destruction. Thats when the wind calmed around us and I heard the most sickening roar from a tornado I have ever heard. I always criticized the whole "it sounded like a freight train" statement, but after hearing this tornado I now understand where that statement comes from. I've heard numerous tornadoes over the years, and theyve all sounded more like a waterfall with a gentle WOOOSH sound. This was more a deep, rumbling growl. I had a sick feeling in my stomach, I have lots of friends in the area, as well as placed I enjoy visiting. We tried to figure out the best way to attempt tracking this tornado which was to take 9 south of Norman and maybe get ahead of it enough to turn north, so that is what we did.
For the first time on a chase we turned in to the radio to hear the live reports coming in, and they were indeed disheartening. We made a very frustrating attempt to get ahead of the tornado again through  metro traffic, police road blocks, and scared locals. We did eventually catch the storm east of the area on I-40, but as we looked at it there was an outflow dominant appearance to it. The tornado had lifted, and we were dealt some cool outflow as we figured the cold front had now undercut it. A whales mouth aided in these thoughts. Now we were left with 2 choices. Go back to Moore and help out, or drop south to the ongoing tornadic storms. On the radio it was broadcast for everyone to stay out of the city unless you had a formal affiliation with an emergency service in the area. That was none of us, so we decided to honor that request and drop south on the new storms heading for Stratford.
Just north of Stratford, we caught up with the storm by core punching into the hook, we somehow managed to find a really flat view in an area otherwise filled with trees and hills and observed this new storm, which displayed classic supercell structure. with RFD clear slot and beaver tail inflow into the wall cloud.

Just about as soon as we pulled over, a funnel developed and dipped half way to the ground. It lasted about 30 seconds but never fully condensed. We could not confirm a touchdown due to the tree line, and I have yet to hear any other chaser accounts saying the tornado touched down, but I would not be surprised at all if it did.

This was all the storm had in store for us though, and it began to move off to the north with no new real attempts at a tornado. We sat there for awhile figuring out what to do next, our minds on what was going on in Moore. We started heading back north when we ran into familiar chase pals Jonathan Williamson, Jeremy Degenhart, Alec Schoelten and Nick Nolte. We decided to grab dinner at Chilis in Shawnee (which was hard hit by tornadoes the day before but still had restaraunts open.) We shared our accounts for the day and had a dinner, as several media began contacting me for potential interviews. Upon leaving dinner we were treated to a pretty wicked mammatus display as the violent storms continued their trek east.

Tragically, 24 people lost their lives in the Moore tornado, which has been rated EF-5. Despite the tragedy of this, it was originally reported as many as 92 had died, which thankfully was not the case.
As of this writing, StormAssist, the storm chaser charity I am associated with has donated $15,000 to the school foundation in Moore. To learn how you can help please check out www.stormassist.org
Conclusion:
This was overall a frustrating chase, not a failure because we did catch the tornado but at the same time I let my hopes and wishes dictate my moves early on as opposed to what I knew based on meteorology. As much as I hate to chase in the metro area, I should probably not allow this in the future. The events are going to happen no matter how much I hope they don't. Police roadblocks are beginning to really get on my nerves as well. This day was a tragic end to our chase trip, and we would be heading home with heavy hearts and warped minds. I couldn't get that sound of the tornado out of my head for days, and I still get goosebumps when I think about it. Events like this are not what we want to see, but are an unfortunate reality.
Video:
Incredible radar images showing our location:
Map. Red line shows tornado path, circle shows our location.
SPC Reports: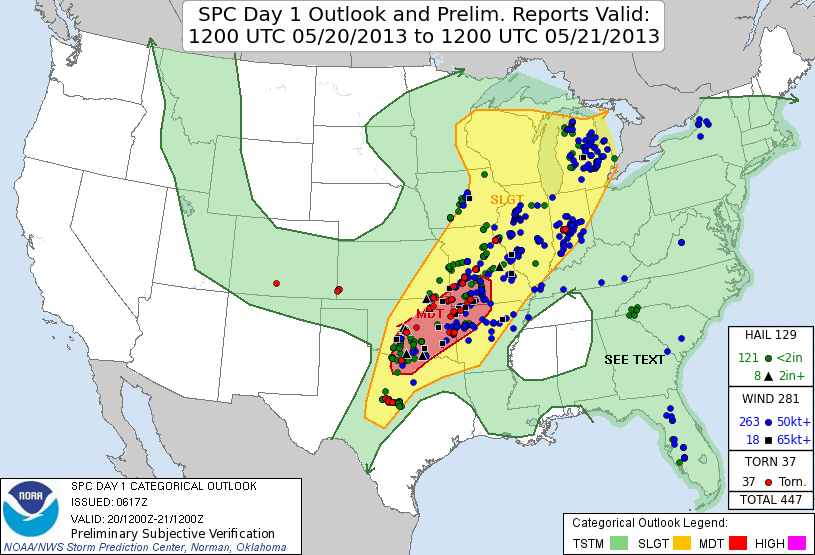 Leave a Comment: