Summary:
Pulled a tough all night grind that payed off big. Caught anywhere from 8 to 12 tornadoes in the Texas panhandle in what became the first tornadoes that far west this late in any year. An unexpected, amazing end to the year!
Stats:
Tornadoes: 9
Hail: .50″ (Dime)
Wind: est 75-80mph RFD
Successful November chase streak: 4
The Forecast:
Seasonably strong trough plowing into the 4 corners region, unusual location for this time of year. Ahead of it, gulf moisture in place forecast to be rapidly pulled northward as surface low deepens in eastern Colorado. Incredible speed/directional shear in place from strong trough. Cloud cover not forecast to be a problem would lead to CAPE values exceeding 1000 j/kg. The big question was would storms initiate in the daytime, as the main piece of energy wasn't forecast to arrive until right at 0z as the sun would set. SPC ended up with Enhanced tornado probabilities due to the combination of strong shear and adequate CAPE.

Detailed Account:
This setup actually presented itself a few days out and showed good potential. The days prior I found myself at the yearly Indiana Storm Chasers Convention, an event I always enjoy and have a good time at. The setup appeared potent enough to warrant a chase, but there were some concerns to make me question the worth of the drive. To top it off, the convention is always a sleepless event as we all tend to go out and have a good time. Arriving home from the convention Sunday evening, and then needing to drive down to potentially the TX panhandle for this event the next day was going to be a hell of a grind. Alec Scholten was down though, but we still had our reserves. We arrived back at my place and decided to wait on the 0z data before making a final call. We knew we had to try, but our tired bodies were not fond of the idea. We tried to lay down for a couple hour nap, but actually sleeping proved difficult. I dozed off for maybe 20 minutes. The alarm rang, and we had to go, it was going to be a rough drive.
Being so tired sort of killed our enthusiasm for chasing this late in the year a setup that looked potentially as potent as this. Surprisingly we made the drive in good time. I got too tired to drive shortly south of Des Moines, Alec took over for about 4 hours until we got near Wichita, and I took back over and felt good the rest of the way after actually being able to catnap in the car a little bit. We arrived in our target area of Shamrock, TX around 3pm with no signs of storms yet other than some early stuff way west and north out of play. We either made it, or the day was going to bust hard.
We didn't sit long before signs of initiation pulled us further west. A couple storms had now developed but were struggling for life. We let the first couple go, as one cell was appearing to take over to our southwest. The road network the cell was going into was terrible (of course) and we had to make a call to hopefully squeeze infront of it and hope it doesnt turn right, or wait for it further east. We chose to squeeze infront of it, and I took off like a bat out of hell. Unbeknownst to me a trooper was watching us the entire time and then clocked me doing 86 in a 75. I was issued a 200 dollar speeding ticket. Ugh. I knew I should have stayed home. The storm to our south was organizing quickly though, and this was our first view.

We dropped south on 294 and then 207, skirting the core but getting into position in good time. We were now in the Palo Duro Canyon, which, despite being a canyon, has amazing views and made for great scenery. The storm approaching displayed a dramatic meso with developing inflow band. It was definitely organizing. This structure alone is almost enough to make any chase day worthy.

We moved to stay in the storms hook area, and noted some brief rotation and an attempt at a funnel, but soon the RFD came crashing down and it fell apart. South of the town of Claude, while re-positioning though a new area of rotation quickly developed along with a funnel. The funnel stretched about halfway down and we could see a faint little whisp under it. TORNADO! During the daytime too. The trip was a success.

Little did we know what was about to unfold. The storms appearance on radar was somewhat unimpressive and for a moment I thought this was it. Ok, I was satisfied. We pulled over so I could upload a photo. A new storm formed to our south that displayed impressive structure and I thought to wait for it. The storm was slow to organize though, and the storm we just left began dropping tornadoes again, so we blasted back north after it. Reaching I-40 and now fully immersed in the blanket of darkness, we spotted a very large tornado. Only video stills can do at this point.

Adrenaline began kicking in full gear, and we raced to catch back up with the storm, which we did, only now we were in the damage path and our road was closed off by volunteer firefighters, but not after witnessing 1 more tornado. We quickly tried to get around the roadblock when the south storm finally got going and gained a warning. I pointed the warning out to Alec, he looked out his window and instantly spotted a tornado. I stopped so we could view it and indeed there was a large trunk tornado ongoing. Even in the darkness of night we would see the outline of the tornado, like a ghostly demon lurking in the night. The tornado lasted at least 15 minutes, being lit up by lightning flashes from time to time.

If only it were still daytime, this would have been an amazingly photogenic tornado. I realized we could get closer to this storm and we moved to re-position, which found us on the same blocked road, only this time they were focusing on blocking side roads. I decided to ignore the warning and go around them, risking the downed powerlines. After running over about 5 dead wires I thought "ok, theres no poles down" and gunned it north….and thats when a downed pole appeared. I hit the brakes but slid into and over it. I backed up and went around. I could hear glass crunching under my tires and thought for sure they would go flat. On the side of the road were several cars parked with flat tires and torn off bumpers, likely from a similar encounter. Luckily SUV survived and we were moving.
This is when things get crazy. I spotted a dark mass quickly extending from the cloud base. "OMG, WHEN WE CREST THIS HILL THERE IS GOING TO BE A HUGE TORNADO ON TOP OF US" I exclaimed. Sure enough, we crest the hill and backlit by the lights of Pampa, a large tornado condensed and begins churning up the field only yards away. The tornado, moving away from us at a high rate of speed then impacted some nearby powerlines, causing it to light up a bright white-ish blue and reveal its true size. This occurred multiple times, providing us with repeated views.

We kept up with it fairly well, as it skirted the south side of Pampa, causing EF-3 damage. At one point we could smell natural gas. The tornado grew even larger as it slipped away.

At this point, the storm favorably tracked up highway 60 and we spent the next 2 hours witnessing tornado after tornado after tornado in the dark. Twice there were satellites, and the tornadoes came in all shapes and sizes. I was babbling and screaming with adrenaline. I wasn't even filming half the time since I had to focus on driving, but Alec got some good screen shots from his camera.

After being hot on the chase for over 4 hours, fuel was getting dangerously low as we neared the town of Canadian. It was dark, we had seen who knows how many tornadoes at this point and the storm continued its rapid race away from us. It was time to call the chase and focus on finding gas to not become stranded. By this point we had bumped into Ben Holcomb and crew, and were cat-n-mousing with them. Marcus Diaz, also in a similar fuel situation joined up with us. The power was out in Canadian, but in the town of Wheeler we could get gas. It was roughly 40 miles away, with each of us down to our last couple gallons of fuel. We rolled into town on fumes, but made it. I put 23.87 gallons into my 24 gallon gas tank, so it was close.
We had a celebratory steak dinner at a Dennys in Sayre, OK….which was awful so I had maybe 2 bites total. Alec and I had been pondering following the system into Dixie alley the next day, so we began a trek east down I-40, but after looking at 0z data decided it wouldnt be worth it, and opted to crash at Ben's house. We spent a leisure day in Norman hanging out with friends. We then went to the store and bought steaks to grill ourselves up a REAL celebratory dinner. At the store we ran into Blake Naftel, who joined us. We had a storm chaser nerd night watching old vintage footage from Dr Ted Fujita and recounting the past days chase. We got a nights sleep, awoke the next morning and left for home.
Conclusion:
Unbelievable. Epic. Amazing. Any one of overly cliche words can be used to describe this event. Even though the bulk of it fell after dark, the experience and the encounters with the tornadoes were amazing. I actually came away with enough video to tell a good story on a DVD chapter, and one of the tornadoes was during the day so it was all a huge success. The grind was so worth it. The day ended up being quite a prolific regional outbreak, with strong tornadoes occurring from the KS/NE border all the way into the TX panhandle. The event itself was the first of its kind in recorded history. Never before have tornadoes been recorded in these areas so late in the year. We witnessed history, that alone makes this chase exceptionally special, and a hell of a way to (probably) end the season. We will never know the exact tornado count, because there were so many of them, but thats part of the mystery and excitement.
Video:
SPR Reports: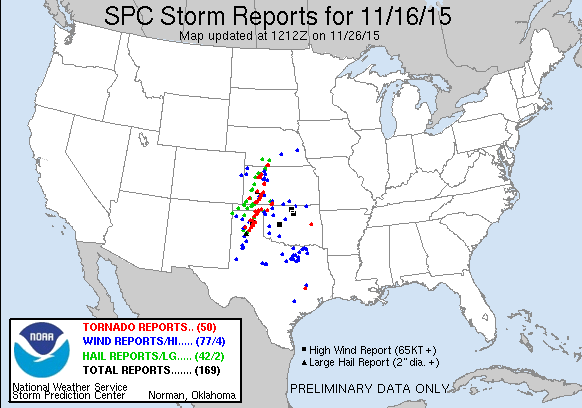 <—Previous Chase                     Next Chase —->
Leave a Comment: