Summary:
Caught an early season, violent tornado as it roared through southern Illinois after a frustrating chase day.
Stats:
Tornadoes: 1
Hail: 0.00″
Wind: n/a
Milestones: Earliest tornado in a season, longest track tornado, and first time a season began with a violent tornado.
The Forecast:
A strong surface low was moving into the midwest. Ahead of it, record breaking warmth and humidity that had been in place for over a week would provide unusually high levels of instability. A warm front would drape across northern Illinois enhancing low level shear. Further south, greater instability juxtaposed with a strong jet streak would create an explosive environment for severe weather. Concerns were, of course the fact it being February, if forecast instability could actually be realized, or would it be hampered by typical early season cloud cover? Additionally, shear values began to veer out in the mid levels, but remained quite potent in the low levels. The other concern with it being so early in the season is would storms initiate in the daytime? Despite the concerns, the ingredients were in place for an early season midwest severe weather outbreak. SPC went with MDT risk probabilities, including the potential for strong, long track tornadoes.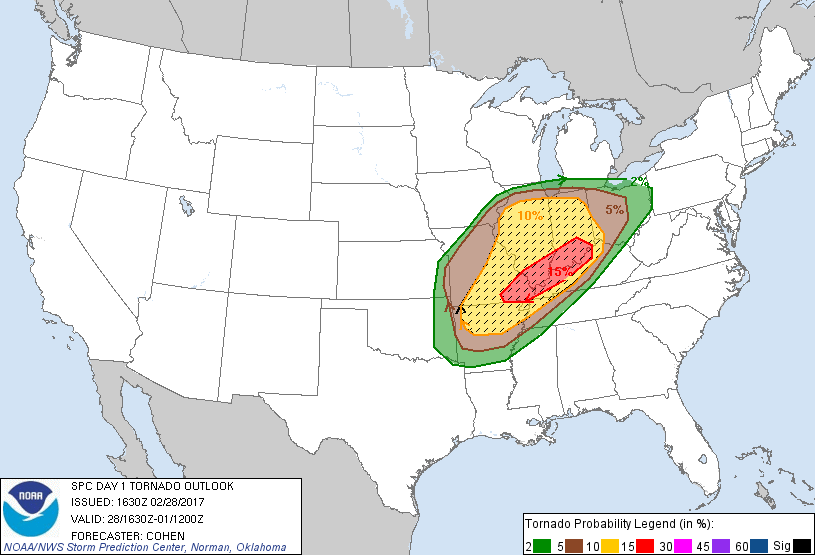 Detailed Account:
Nature likes to play cruel tricks on you sometimes. I had been in Texas vacationing and low and behold, what appeared to be a rare and volatile setup materializes in my backyard. It felt weird to be contemplating driving 12 hours to chase an hour from home…when usually its the other way around. My pre-season budget is always tight, and I opted to team up with Stephen Jones from Norman, OK to cut costs. I left the apartment in Texas around 230 and was in Norman by 5 and we set sail.
Forecast models bisected the target areas, honing in on northern Illinois along the warm front, which can sometimes be a high risk high reward play, and the more classic synoptic setup across southern Illinois and adjacent areas. Going by the book, the southern play was the choice, but living in Northern Illinois my whole life, I am well versed in the local warm front climatology, and this setup had all the makings of a classic WF day.
We met up with some other chasers in Litchfield to mull over the target options. I was pleading to go north, but was seemingly alone in that camp. Tornado watches lit up across the entire area, and initiation began to occur in Missouri. It was decided these would be the play, since its easier to drop south and get into position than chase from behind to the north. The storm did look good on radar, but was moving into a still capped environment. This would be my first time chasing south of I-64 in Illinois, an area I always told myself was un-chaseable due to more trees and hills. Much to my surprise the area wasn't nearly as bad as I thought and we found there are quite a few views down there. Traffic on the other hand, left much to be desired.
We got into position on our storm and much to our dismay, it began to rapidly shrivel up, leaving only remnants of some mid level inflow. Photo courtesy of Aaron Rigsby, who was caravanning with us at this time.

The environment was still capped, and the better ingredients weren't forecast to arrive later, after dark. By now, raging storms were ongoing across northern Illinois along the warm front, dropping photogenic tornadoes roughly 60-75 minutes from home. Owch. Only February 28th and I already feel like I want to hurl myself out of the car and into a nearby river. How could this be happening?
Other storms began to initiate in our area and we found ourselves driving around in a big circle for a couple hours with similar results each time. Storms rapidly strengthening, then rapidly dying. We were beginning to give up on the day and contemplated setting course for home. It was now dark and a lone storm had initiated in south central Missouri. Nice and isolated, we decided to give the day one last chance and dropped further south to wait for it on the Illinois side of the MS river.
There was a stillness to the air, and the distant constant crackling of thunder never stopped. Radar indicated a large tornado could be present but there were no reports coming in. That changed once the storm reached Perryville, and fellow chasers began reporting a large destructive tornado. This was it. Suddenly, the still, calm dead of night was broken by a distant whooshing sound. The sound began growing louder, this was the roar of a violent tornado beginning to make its approach. Suddenly the wind began to increase at my back, slowly at first, then increasingly stronger as the ungodly roar grew louder.

Hearing, but not seeing a tornado, especially in the dead of the night is one of the scariest scenarios you can imagine. You know its there, and are just waiting to gain visual. Then you start guessing your position. Are we in a safe spot? So much of chasing involves being able to SEE what youre chasing, at night it is a totally different ballgame.
Then, suddenly the tornado rips through some transformers and shows itself.

We thought for sure the town of Ava was in serious trouble, as we were positioned to have the tornado pass to our north which would take it directly through town. The tornado took out the power, but even in the darkness of night we could see the left edge of the tornado approaching. Each flash of lightning lit up the tornado as a wedge tornado, but there was a problem. The tornado did not appear like it was moving north, and instead was just getting bigger and bigger with each successive flash. We began to grow concerned it was coming straight at us. We decided to bail east. I could see the large wedge tornado just to my south as rain began to pick up. We slid off the road and into a ditch but thankfully were able to bounce right back out. After some brief confusion about if we were ok, the wind shifted at our backs again and it was clear the tornado was passing behind us and we could breathe a sigh of relief. The tornado passed close by, and apparently my position on radar raised some concern from those watching back home as I appeared to be right in the center of the circulation.

The panic cost us any chance of getting better images of the tornado, but safety was our main concern. The tornado did pass to our south and we put some more distance between us and it.

We quickly got back on the pursuit but it wasn't long until we encountered damage. We happened upon a house that was severely damaged and went into search and rescue mode.

A dog was walking around with a collar, and we could hear horses in the distance, but after calling out and searching through the rubble we were unable to find anyone. A local showed up and said the person was likely not home as their car wasn't present. We continued on, encountering more damage. At one point only stumps of power poles remained, the rest of the poles having vanished.

It takes a strong tornado to snap a pole at this level and carry the rest completely away. Suddenly we noted some distant power flashes and saw the tornado in the distance, it was still going some 15 minutes later and we hopped out to try and get a shot of it again. By now it was beginning to weaken and had taken on a more classic trunk look.

Attempting to pursue it was slow going as we had to continuously dodge damage laying in the middle of the road.

We pulled over to assess the situation, it was then a pickup truck pulled up next to us and asked if we were ok. We said we were and asked if they needed help, the frantic passenger exclaimed her grandma was trapped and needed help. We told them to lead the way and we would help. They lead us into Elkville, which had taken a hard hit from the tornado. Photos courtesy of Stephen Jones.

Emergency crews and volunteers were sifting through the rubble helping out. The woman's grandmother was found safe, but another family came up to us saying they had an elderly man in a wheelchair that was trapped in his house. We followed them to the scene of his badly damaged home, he was ok but being wheelchair bound could not get out of the house. I began clearing debris out of the way while they grabbed what supplies they could salvage. Another storm had gone up overhead with thunder and lightning crashing around, the residents were rightfully concerned another tornado could be coming, but thankfully we were there to explain to them it was just a pop up storm.
Once they were able to get the chair out of the house and the lightning subsided, Stephen and I lifted the man up and placed him in the chair, but it was a long walk to the driveway and the yard was littered with debris and downed wires. We carefully carried the man in his chair over and through the debris until reaching the main road. We hung around a bit until our assistance was no longer needed.
The storm was well off to the east by now and there was no hope of catching it, so we decided to call the day and make our way back to Norman. Fellow chasers Alec Scholten and Aaron Rigsby were nearby and had caught the tornado too. They wanted to meet up for dinner so we agreed to head to nearby Carbondale and seek out food. On our way a second supercell developed and was heading for the general area. A tornado warning was issued and we moved to position on it, but we never noted anything significant. We found a Buffalo Wild Wings in town and shared our accounts of the day. After dinner we set course for Norman, arriving at 9am, I hoped back in my truck and was back in Dallas before noon, exhausted and ready for sleep.

Conclusion:
This was an emotional roller coaster of a chase. From the frustration and anger of missing the stuff on the warm front target I wanted to be on, to the excitement and adrenaline of witnessing a February Illinois Wedge tornado, to the horror and sadness of performing search and rescue in the damage the tornado left behind. The events leading up to witnessing the tornado are the freakiest I have experienced. The tornado was so loud and listening to it in the dead of night, not knowing exactly where it was gives me chills every time I think about it. In terms of sound, only two other tornadoes compare, Moore, OK 2013 and Haleyville, AL 2011. Our positioning was off, which caused unnecessary panic and further illustrates how dangerous night chasing can be. The search and rescue was some of the most intense I have been involved in, its an emotional ride, but I am glad we were there to offer immediate assistance.
Of course I would have still rather been on the daytime stuff up north, but the catch we ended up with was a pretty significant one. The tornado ended up getting an EF-4 rating, and rightfully so, making it the strongest "first tornado" of any season for me personally. It was on the ground for about 50 miles which I believe is also the longest track tornado of my career. All things considered, this is also the most intense start to any chase season in my career.
Video:
SPC Reports/Verification:

Leave a Comment: