Sitting around bored and keeping a loose eye on the radar I noticed some hailers going up in local turf. Decided I would rather be out in a storm than sitting at home.
This was just one of those chases in your area you go on when there is nothing better to do. At the very least, nobody else would be out there.
I had a friend meet me who was interested in my chasing so once she arrived off we went. I just grabbed my digital camera for this one.
A relatively short drive down I-55 over to I-80 took us to near the suburb of Morris, IL where we caught up with the storms. Me being the noob I still was then I left my camera on the wrong setting and all the pictures came out somewhat blury.
We start to approach the storm.
At least I managed to get one clear photo.
The storms had a pretty green tint to them along with some grungy black lowerings. My friend was excited, she had never really seen something like that before so at least she got enjoyment out of it. I told her we weren't done yet and I drove into the core, blasting us with pea to penny size hail for a good 5-6 minutes.
During the middle of this we came upon a fire burning in a field, it was pretty random and I had thought at the time it may have been caused by a lightning strike. I doubt this was the cause though, it was raining much too hard. I have video of all this somewhere deep within the archives. Pictures are enough for this story though.
After driving keeping pace with the storm for awhile and sampling the hail and torrential rains we turned around and headed for home. It was a nice way to salvage a boring day. This was a highly localized non-significant event but still fun.
Storm reports.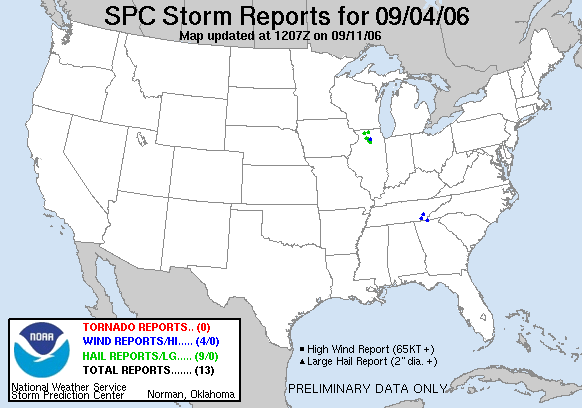 Leave a Comment: