Summary:
Played southern end of linear storm complex for best areas of rotation. Caught a beauitful rope tornado from close range right outside the vehicle with funnel passing overhead and debris whirl in field next to us. Debated moving after stronger storms to the south but decided against it. Tracked tail end of the line through Oklahoma before calling off chase and watching lightning display near Ponca City, OK where we roomed up for the night.
Stats:
Tornadoes: 1
Hail: .50″ (dime)
Wind: n/a
The Forecast:
Slowly moving cold front across the plains. Ample moisture and strong instability would exist under fairly weak capping. Numerous storms appeared likely, but a slightly veered profile meant storms may line out quickly, except for areas south and east of Oklahoma city in less favorable terrain. Chose to target the OK/KS border which sat on the northern fringe of the better shear and still allowed for favorable chasing terrain. SPC started the day with a 10 hatched tornado risk but upgraded to 15 once it was clear storm coverage would be greater.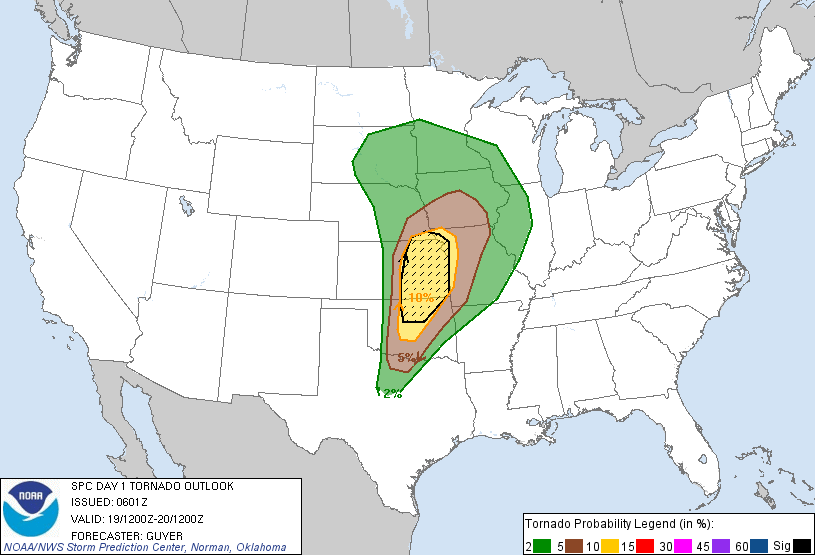 Detailed Account:
Still ecstatic over the amazing tornado we saw the day before, we awoke at our hotel and checked over the days forecast. Today looked like it could be a big severe weather day, but tornado potential was questionable based on some slightly veered profiles above the surface.  I set my target city for Medford and we set course for the day, arriving just as the first towers began going up and the first tornado watch was issued. One particulalrly strong cell began going up near Wichita, it was clear this cell stood a strong chance at producing a tornado and we debated going after it, but we had some solid development going on nearly overhead and decided not attempt racing back north but rather we would let our storms get organized since they existed in a similar environment. Our first look at the base just north of Medford, OK.

The storms were congealing into a line rather quickly, and the name of the game I wanted to play was being right in the cage as I knew there would be quite a bit of rain to deal with. We moved north into Kansas to keep up with the storms, core punching our way through to get into the inflow notch of the southern end of the line, here we figured would be our best chance at a tornado. Some of the roads got pretty muddy and made our pursuit a little dicey. While navigating the tricky roads in the core a funnel began to dip down jsut head of us. It only lasted about a minute and we were never able to confirm a touchdown.

Our road network was unfavorable for a smooth intercept as the complex of storms moved off to the northeast, and with redevelopment continually occurring down the line, the call was made to drop south and stick with that plan. It was a short drive but we had a clearer view of the southernmost end. As we neared the town of South Haven we began to get under the storms base, just as we arrived a new funnel began developing and I pulled us over to watch it.

The funnel slowly began to stretch down as everyone else pulled over started bailing out of the area. I couldn't exactly figure out why as I knew we were in position to watch something amazing. The funnel eventually stretched all the way to the ground as a brilliant, skinny white tornado against a green core. This is one of my favorite color combinations of a storm and was awed by the sight right outside my window. So close it barely fit into frame.

The tornado slowly moved to our south and began to stretch out into a rope tornado. As it did this the funnel stretched directly overhead. The only way I could capture it on film was to point my camera straight up and then pan down to the ground, where the tornado would touch down intermittently for 10 seconds at a time. As far as viewing tornadoes goes, there is an extra sense of awe when you have to look up at them as opposed to straight at them. The tornado itself wasn't terribly strong, but our close position to it made for a spectacular show and amazing video. The following 7 images are screen shots from the video.

That is probably the only bad thing about being right next to a tornado, you can't fit the whole thing in your camera, but there is no better way to view them with your own eyes in my opinion. The tornado moved off to our east and soon dissipated, and we were now caught in the wrap around rotation, which had straight line winds pushing 70mph and made for a hasty escape. To add to the intense moment was an insane barrage of staccato lightning, which has a distinct sound like a loud firecracker going off in your ear. I have only experienced that a couple times, in a more isolated fashion, but this was constant and intense.
By now the complex was becoming more linear, but we decided to stay with the southern end. No new areas of distinct rotation were noted though and it was taking on more a shelfy squall line appearance.

Around this time, a pair of tornadic supercells had gone up east of Oklahoma City, south of I-40. These storms were producing large, damaging tornadoes and we debated heavily about dropping down south after them. They were at least 90 minutes away and in an area that generally does not have the best terrain so we were hesistent to commit to such a move. Instead we continued dropping south on the linear complex we had been chasing, and would detour east after the supercells if we stood a real chance at an intercept. Unbeknownst to me, the supercells were actually moving pretty slow, and many chasers positioned behind us to start managed to get  into the hook regions, but as the storms were finally dying and the tornadoes were dissipating. Had we simply gone for it right away we probably could have made it down there, so I will have to consider slower storm speeds next time (something I am not used to!)
Back on our storms, the southern most end tried to display some rotation structure for a time, and looked pretty neat.

Brief tornadic signatures on radar also kept us in pursuit, until we ended up near Ponca City, OK and finally called off the chase, let the storms go and decided to grab dinner at a Pizza Hut. There we met up with Donovan Grunder and Andrew Newcomb. New storms began developing and they along with Danny and Joe wanted to go shoot lightning so we found a spot for awhile to observe lightning. I don't really have a camera capable of capturing lightning so I just watched while they fired away shot after shot. The display was indeed impressive, and makes me really want to get an SLR of my own. After about an hour I was itching to get back to the room so I broke off and the 4 of them contiued to shoot the storm for an additional half hour before deciding to head back to our motel.
Conclusion:
The close range intercept of the South Haven tornado made this a fantastic chase. It was the lesser catch of the day when compared to the bigger and much more violent tornadoes that occurred near Shawnee and other places in Oklahoma, but I am ok with that. I will have to remember to consider the possibility of making it down to storms that are farther away when they are moving slower, as I believe if we simply had just diverted down there after our South Haven tornado we could have been easily gotten into position on those storms while they were still producing. Its ironic, I am used to faster storm speeds so I almost consider it a lack of experience with slower storms for that blunder.  Also as of now my streak of chased with tornadoes is at 3 for the year. Impressive considering the slow start.
Video of the South Haven tornado: https://www.facebook.com/photo.php?v=10151454487093807&set=vb.167447826684097&type=3&theater
Map. Arrow 1 is the location of the funnel, arrow 2 is the location of the South Haven tornado.

SPC Reports:

Leave a Comment: